Excelsior Award White 2019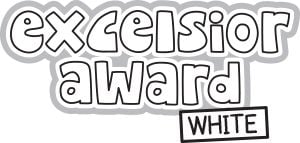 The books on the Excelsior Award White shortlst have been designated as suitable for children aged 9+ (or Key Stage 2 in schools)
Click on the book's title for extra information
Once a year, giant robots from outer space come to Earth and bond with young cadets from the elite Sky Corps Academy to defend the world from the terrifying aliens known as the Sharg. It's a great honour to be chosen, but this year... well, the wrong kid was picked. Greg Pak (Totally Awesome Hulk) and Takeshi Miyazawa (Ms. Marvel) team up for an action-packed and heartfelt underdog story about the true makings of heroism and friendship in the face of overwhelming odds.
Writer: Greg Pak
Artist: Takeshi Miyazawa
Published by Boom! Studios
ISBN-13: 978-1684151950
Looshkin is the maddest cat in the world! You may think that your cat is mad, but they've got nothing on Looshkin. Leave him for just a moment and you'll find that your house has flooded, a steam train has smashed into your living room and a portal to another dimension has opened in your loft. And everything is covered in bees. And there are sirens. Looshkin, what have you done?!
Writer: Jamie Smart
Artist: Jamie Smart
Published by David Fickling Books
ISBN-13: 978-1788450034
It's hard to make an honest living in a land brimming with magic and mystery, and treasure hunter Luvander is tired of being a penniless adventurer. Ever in search of gold and glory, she sets off for a fabled dungeon - "The Dragon's Maw" - an ancient labyrinth at the bottom of which slumber endless wealth… or certain doom! A loner by nature, Luvander is forced to team up with a group of scraggly adventurers, each hoping to find a treasure of their own in the forbidden tomb.
Writer: Sebastian Girner
Artist: Galaad
Published by Image Comics
ISBN-13: 978-1534304826
Far out at sea, and hidden by the mists of time, sails The Mary Alice and her crew - searching for a way home. But the mysterious ship is being hunted by a villain who will go to ANY lengths to track them down...
Join John Blake and the crew on an unforgettable time-travelling adventure.
Writer: Philip Pullman
Artist: Fred Fordham
Published by David Fickling Books
ISBN-13: 978-1788450591
A young girl named Nagi and a giant spider make an unusual pair in this post-apocalyptic story, but living in the mountains is lonely, and they've managed to find each other. Join them in their strangely sweet domestic bliss as they spend their days sharing tea and throwing picnics, proving that love (and delicious food) can bring together even the most unlikely of friends.
Writer: Kikori Morino
Artist: Kikori Morino
Published by Seven Seas
ISBN-13: 978-1626927544