Excelsior Award Red 2020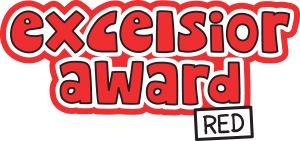 The books on the Excelsior Award Red shortlst have been designated as suitable for children aged 14+ (or Key Stage 4 in schools)
Click on the book's title for extra information
George Takei has captured hearts and minds worldwide with his captivating stage presence and outspoken commitment to equal rights. But long before he braved new frontiers in Star Trek, he woke up as a four-year-old boy to find his own birth country at war with his father's - and their entire family forced from their home into an uncertain future. In a stunning graphic memoir, Takei revisits his haunting childhood in American concentration camps, as one of over 100,000 Japanese Americans imprisoned by the U.S. government during World War II. Experience the forces that shaped an American icon - and America itself - in this gripping tale of courage, country, loyalty, and love.
Writers: George Takei & Justin Eisinger
Artist: Harmony Becker
Published by Top Shelf Productions
ISBN-13: 978-1603094504
This is the Buffy Summers you know, who wants what every average teenager wants: friends at her new school, decent grades, and to escape her imposed destiny as the next in a long line of vampire slayers tasked with defeating the forces of evil... only this time around, her world looks a lot more like the one outside your window. But the more things change, the more they stay the same as the Gang faces brand-new Big Bads, and the threat lurking beneath the perfectly manicured exterior of Sunnydale High confirms what every teenager has always known: high school truly is hell.
Writer: Jordie Bellaire
Artist: Dan Mora
Published by Boom! Studios
ISBN-13: 978-1684153572
An original sci-fi space comedy unlike anything the universe has ever seen! Space captain Joey, navigator Fatima, and scientist (and dinosaur) Cooper are headed to Earth - a planet completely sectioned off, abandoned, and covered in gold - and are confronted by the most powerful weapon in the universe: some ancient dead guy's body?! Now they've got to keep King Midas' body from being dropped on planets across the universe, and figure out exactly what to do with a gross dead dude with one truly ridiculous superpower.
Writer: Ryan North
Artists: Shelli Paroline & Braden Lamb
Published by Boom! Studios
ISBN-13: 978-1684153596
Conan the Cimmerian - black-haired, sullen-eyed, sword in hand, a thief, a reaver, a slayer, with gigantic melancholies and gigantic mirth, treading the jewelled thrones of the Earth under his sandaled feet. Conan's travels have brought him to the far reaches of the unknown, from his birthplace in Cimmeria to the kingdom of Aquilonia and all in between. But as his fighting prowess lets him carve his way through life, so too does it attract the forces of death! And few are more deadly than the Crimson Witch. Robert E. Howard's legendary barbarian stars in an all-new ages-spanning saga as the destiny of Conan - and King Conan - are forever changed!
Writer: Jason Aaron
Artist: Mahmud Asrar
Published by Marvel
ISBN-13: 978-1302915025
After liberating New York City from her now-feral Gang of Harleys, poor Harley wants nothing more than to slip back into retirement in her coastal (and heavily guarded) paradise. But the Laughing Boys gang has another idea - they'll follow her to the ends of the Earth, to drag her back to their leader! It can't actually be... him! Right?! He couldn't possibly still be alive, could he? After all... Harley killed him herself with her bare hands! Should she turn to President Power Girl for help? Or flee to the 51st state, Atlantis? Step into an insane vision of a future DC Universe we all better hope we don't live to see!
Writer: Frank Tieri
Artist: Inaki Miranda
Published by DC Comics
ISBN-13: 978-1401292164