Excelsior Award Red 2019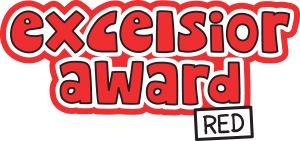 The books on the Excelsior Award Red shortlst have been designated as suitable for children aged 14+ (or Key Stage 4 in schools)
Click on the book's title for extra information
One day, gravity on Earth suddenly became a fraction of what it is now. Twenty years later, humanity has adapted to its new low-gravity reality. And to Willa Fowler, who was born just after G-day, it's pretty awesome. You can fly through the air! I mean, sure, you can also die if you jump too high. So you just don't jump too high. And maybe don't get mixed up in your dad's secret plan to bring gravity back that could get you killed…
Writer: Joe Henderson
Artist: Lee Garbett
Published by Image Comics
ISBN-13: 978-1534308336
Drama! Comedy! Tragedy! For the renowned Southern playwright called Snagglepuss, these are the ingredients that have made him a star of the New York stage and the glittering world that surrounds it. But the year is 1953, and behind the bright lights, darkness is brewing. As Snagglepuss prepares for his next hit play, there's already a target on his back. The Red Scare is in full effect, and the House Un-American Activities Committee is hunting down every last subversive in show business.
Writer: Mark Russell
Artist: Mike Feehan
Published by DC
ISBN-13: 978-1401275211
Get a CLUE! Solve the world's favourite murder mystery in this comic book adaptation of the classic whodunit board game.

When the mysterious Mr. Boddy turns up dead at his own dinner party, everyone's a suspect! Miss Scarlett, Colonel Mustard, Mrs. Peacock, Professor Plum - all the familiar faces from the famous board game are back, with a couple new twists. But will Boddy's body be the last to fall, or is it just the beginning?
Writer: Paul Allor
Artist: Nelson Daniel
Published by IDW
ISBN-13: 978-1684051182
The Mad Titan has everything he ever wanted - but satisfaction is not in Thanos' vocabulary. When a temporal distortion on Titan draws his attention, he finds the purpose he's been searching for: saving himself! An old enemy lurks in the far future, and it will take the combined wits of Thanos, his brother Eros and time-travel master Kang the Conqueror to stop it - and save the Multiverse. But there are other players in this cosmic chess game - and Thanos may find himself outmatched! What lies ahead for the so-called Avatar of Death?
Writer: Jim Starlin
Artist: Alan Davis
Published by Marvel
ISBN-13: 978-1302908188
Teen schoolgirl Anne unexpectedly inherits a mysterious locket and a crumbing English mansion estate from her long-lost aunt. She unearths the family secret that she's part of a magical legacy that gives her fantastic abilities, and she isn't the only girl whose family is involved. But not all the girls are so willing to use their new powers for good...
Writer: Leah Moore and John Reppion
Artist: Sally Jane Thompson
Published by Dark Horse
ISBN-13: 978-1506708836