Excelsior Award Red 2022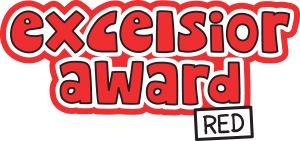 The books on the Excelsior Award Red shortlst have been designated as suitable for children aged 14+ (or Key Stage 4 in schools)
Click on the book's title for extra information
Paint the town red - blood red! Carnage, the psychotic offspring of Venom, has returned - and he plans to slaughter everyone who's ever worn a symbiote!
Cletus Kasady has skirted the periphery of the Marvel Universe for months, but now he stands poised to make his grand return to New York - and he's more powerful than ever! To make matters worse, a new player is on the board, and it's not who you'd expect! Spider-Man and Venom must face down Carnage's madness, but things aren't looking good. Barely able to escape with their lives, the uneasy allies have no choice but to drag a slew of other heroes into Carnage's crosshairs. And the hard truth is that not everybody will make it out of this conflict in one piece - if they make it out at all!
Writers: Donny Cates
Artist: Ryan Stegman
Published by Marvel
ISBN-13: 978-1302919085
East Berlin, 1973. Herring, a disillusioned American spy, has spent the entire Cold War infiltrating the inner circles of East German intelligence for a cause he barely believes in anymore. He's seen everything and done anything his government has asked, but his latest mission pits the brilliant, embittered operative against an enemy force so vast it could obliterate all of humanity.

When a mysterious alien probe lands outside East Berlin and into Soviet control, the Americans send their top spy in to investigate. But as Herring gets ever closer to the truth at the heart of the conspiracy, he may find that the power is too dangerous for anyone to control or contain.
Writer: Jeff Loveness
Artist: Lisandro Estherren
Published by Boom! Studios
ISBN-13: 978-1684156443
The new generation claims the dawn! The classic New Mutants - Sunspot, Wolfsbane, Mirage, Karma, Magik and Cypher - get together with new friends Chamber and Mondo for a new mission… tracking down their teammate Cannonball! Hitching a ride into outer space with the Starjammers, the New Mutants soon find themselves in trouble and on trial for crimes against the Shi'ar Empire! But when Deathbird returns and throws the Empire into turmoil, the New Mutants' happy reunion soon becomes a complicated struggle for galactic freedom! Who will claim the Shi'ar throne?
Writer: Jonathan Hickman & Ed Brisson
Artists: Rod Reis
Published by Marvel
ISBN-13: 978-1302919931