Excelsior Award Blue 2020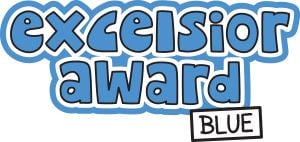 The books on the Excelsior Award Blue shortlst have been designated as suitable for children aged 11+ (or Key Stage 3 in schools)
Click on the book's title for extra information
Experience the grand return of the greatest family in the Marvel Universe! As an event occurs that will radically alter the Fantastic Four, Reed and Sue Richards return home with their children. But things have changed! And while Alicia Masters and The Thing ponder a big change of their own, the next chapter begins in the life of Victor Von Doom! Plus: Who are the Marvel Universe's newest fabulous foursome - the Fantastix?! How did they come into possession of the Baxter Building? And what does that mean for the original FF? The World's Greatest Comic Magazine is back - and better than ever!
Writer: Dan Slott
Artist: Sara Pichelli
Published by Marvel Comics
ISBN-13: 978-1302913496
Ye is a curious young man, named after the only sound he knows how to make. His voice must have been stolen by the Colorless King, the source of all the world's sorrows - terrifying, unrelenting, all-taking, and never-giving. Now, Ye has no choice but to embark on a long voyage over land and sea, past grizzled pirates, a drunken clown, and more, to find the famous witch who can help him defeat the Colorless King. What he discovers may be a lesson for us all.
Writer: Guilherme Petreca
Artist: Guilherme Petreca
Published by IDW Publishing
ISBN-13: 978-1603094405
A touch of magic in a world where everyone takes wonders, like magic spells and dragons, for granted. Coco is a girl with a simple dream: she wants to be a witch. But everybody knows magicians are born, not made, and Coco was not born with a gift for magic. Resigned to her un-magical life, Coco is about to give up on her dream to become a witch… until the day she meets Qifrey, a mysterious, traveling magician. After secretly seeing Qifrey perform magic in a way she's never seen before, Coco soon learns what everybody "knows" might not be the truth, and discovers that her magical dream may not be as far away as it may seem…
Writer: Kamome Shirahama
Artist: Kamome Shirahama
Published by Kodansha Comics
ISBN-13: 978-1632367709
Enter Shadow Wing - the Empire's salvation, and the Rebellion's doom! As the war between the Rebels and the Galactic Empire stretches on, it's the innocent people of the galaxy who are most at risk. An elite squadron of TIE fighter pilots is assembled to help protect Imperial interests - and hammer the Emperor's fury down upon the treasonous and violent Rebel Alliance. But how far is this untested team willing to go to preserve law and order? Are the pilots of Shadow Wing as loyal to the Empire as they seem? And on a dangerous mission to deal a devastating blow to the Rebellion, will any of them survive the fight?
Writer: Jody Houser
Artist: Roge Antonio
Published by Marvel Comics
ISBN-13: 978-1302918620
Olive and her adopted siblings, Charlotte and Darwin, are spending the summer with their estranged grandma at her creepy hotel - and it's all work and no play. They're stuck inside doing boring chores but they soon stumble upon an incredible secret. Behind each room door of the hotel lies a portal to a different, strange and mysterious place. The simple turn of a knob transports them to a distant magical world filled with space pirates. Behind the next door are bearded wizards. Down the hall is a doorway to a cotton-candied kingdom. But once the doors are opened, worlds start colliding, and only one family can save them before they tear themselves apart.
Writer: Terry Blas
Artist: Claudia Aguirre
Published by Boom! Studios
ISBN-13: 978-1684152056