Excelsior Award Blue 2022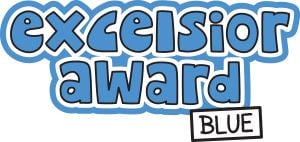 The books on the Excelsior Award Blue shortlst have been designated as suitable for children aged 11+ (or Key Stage 3 in schools)
Click on the book's title for extra information
Victor Von Doom is at a crossroads. Wrestling with visions of an entirely different life - a better future - the Lord of Latveria offers mankind a stark warning about the folly of a trillion-dollar global effort to create the first artificial black hole. But when a catastrophic act of terrorism kills thousands, the prime suspect is… Doom! Left with no homeland, no armies, no allies - indeed, nothing at all - will Doctor Doom's reign come to an abrupt end? Forced to seek out an old "frenemy" for help, Victor will go through Hell - literally! And his old foe Mephisto is waiting for him there! Doom will have to battle Taskmaster, M.O.D.O.K., the Blue Marvel and more - but can he clear his accursed name?
Writer: Christopher Cantwell
Artist: Salvador Larocca
Published by Marvel Comics
ISBN-13: 978-1302920890
From the sands of ancient Egypt to the streets of modern Japan, the newly resurrected Great Priest Imhotep traverses time and space on the hunt for the Magai, devious beings with an appetite for destruction who impersonate the gods! When schoolgirl Hinome crosses paths with this illustrious ancient, is her loner lifestyle about to change for the better... or the worse?!
Writer: Makoto Morishita
Artist: Makoto Morishita
Published by Yen Press
ISBN-13: 978-1975332822
Enslaved for generations, Canto's people once had hearts. Now they have clocks. They are forbidden to love, yet Canto loves a little tin girl. When slavers damage her clock beyond repair, Canto embarks on an incredible journey through his strange and fantastic world to bring back her heart.
Canto is an all-ages adventure for past and present generations alike. Inspired by The Wizard of Oz and Dante's Inferno. Part fantasy. Part adventure. All heart.
Writer: David Booher
Artist: Drew Zucker
Published by IDW Publishing
ISBN-13: 978-1684056217