Excelsior Award Blue 2019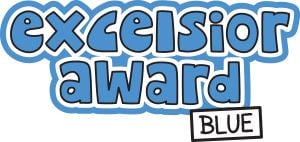 The books on the Excelsior Award Blue shortlst have been designated as suitable for children aged 11+ (or Key Stage 3 in schools)
Click on the book's title for extra information
An evil spell has been cast on the Queen of Maar and her Captain of the Guard will do anything to reverse it. Their only hope lies on an island half a world away - a place known in myth as Isola, land of the dead. Gotham Academy creators BRENDEN FLETCHER and KARL KERSCHL reunite for a breathtaking fantasy adventure two decades in the making. Recommended for fans of Studio Ghibli and the work of Hayao Miyazaki.
Writer: Brenden Fletcher
Artist: Karl Kerschl
Published by Image Comics
ISBN-13: 978-1534309227
Time for a change of pace.
Yuugo Hachiken flees the hustle and bustle of city life to enroll at Oezo Agricultural High School. At first he's just trying to outrun his problems, but instead he finds a place for himself in this quaint rural community. Between the classrooms and cowpatties, the boy becomes a man.
Writer: Hiromu Arakawa
Artist: Hiromu Arakawa
Published by Yen Press
ISBN-13: 978-0316416191
New Jersey, 1998. Chris has just started the teen dream job: working at Vinyl Mayhem, the local record store. She's prepared to deal with anything - misogynistic metalheads, grunge wannabes, even a crush on her wicked cute co-worker, Maggie. But when the staff's favorite singer mysteriously vanishes the night before her band's show in town, Chris finds out her co-workers are doing more than just sorting vinyl… her local indie record store is also a front for a teen girl vigilante fight club!
Writer: Carly Usdin
Artist: Nina Vakueva
Published by Boom! Studios
ISBN-13: 978-1684151417
This is the story of how a small golden apple started a great battle. It all began with a mouse and a sparrow, but soon all the animals and birds were waging a mighty war. After all, the King of Birds forgives no one... but what will happen when he finds himself at the mercy of a plucky merchant? Enter a world of magic and adventure in this stunningly illustrated comic based on traditional Russian folklore.
Writer: Alexander Utkin
Artist: Alexander Utkin
Published by Nobrow
ISBN-13: 978-1910620380
Kara Danvers isn't any different than any other teenager in her hometown. Problems with school. Problems with boys. Problems with friends. But while growing pains shake up Kara's world, a series of earth-shaking events hits her hometown, leaving her with with the choice of blending in with the crowd or being different. Being an outcast. Being super. This reimagining of Supergirl will appeal to fans of all ages and readers new and old, as the Girl of Steel flies face-first into the struggles that every teenager faces.
Writer: Mariko Tamaki
Artist: Joelle Jones
Published by DC
ISBN-13: 978-1401268947