Excelsior Award Black 2022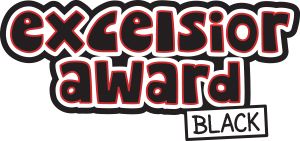 The books on the Excelsior Award Black shortlist have been designated as suitable for children aged 16+ (or Sixth Form in schools).
We are avoiding topics that could be considered "offensive" or "too adult" for a school library, but books on this shortlist may include moderate swearing and moderate violence, akin to a 15-rated movie.
Click on book's title for extra information
1917. Nivelle – 'The Butcher' – commands the French Army, and the attacks he keeps ordering are pointless slaughters. The soldiers can't take it any more. Discontent is turning into rebellion, and a petition is being circulated in secret. When it makes its way to the men of Sergeant Sabiane, something snaps in them, and what begins as a simple cry of defiance becomes a full-blown mutiny when a handful of them decide to take the petition to Paris…
Writers: Xavier Dorison and Emmanuel Herzet
Artist: Cédric Babouche
Published by Cinebook
ISBN-13: 978-1849185486
George Orwell's most celebrated work, 1984, and the prescient vision it contains of a society governed by Big Brother, predates the constant monitoring of people and data we are familiar with today by over 70 years. But his life was every bit as fascinating and forward-looking as his books. Orwell studied at Eton, joined the police in Burma, fought in the Spanish Civil War, fiercely opposed Stalinism, and lived in London's slums while working as a journalist.
With illustrations by a team of artists including Juanjo Guarnido, Enki Bilal, Manu Larcenet, Blutch and André Juillard, Pierre Christin and Sébastien Verdier's Orwell offers readers an intimate yet definitive portrait of our greatest political writer.
Writer: Pierre Christin
Artist: Sébastien Verdier
Published by SelfMadeHero
ISBN-13: 978-1910593875
Mark Markz has found his place on Earth as both a decorated police officer and as the beloved superhero, Barbalien. But in the midst of the AIDS crisis, hatred from all sides makes balancing these identities seem impossible - especially when a Martian enemy from the past hunts him down to take him back, dead or alive.
Writer: Jeff Lemire and Tate Brombal
Artist: Gabriel Hernandez Walta
Published by Dark Horse
ISBN-13: 978-1506715803